SALT LAKE CITY — Five University of Utah Health workers and four Intermountain Healthcare staffers became the first Utahns to receive the COVID-19 vaccine outside of a clinical trial Tuesday.
Vaccinations took place at the University of Utah Hospital and Intermountain's LDS Hospital on Tuesday. Christy Mulder, a U. health intensive care unit nurse, was the first person to receive the vaccine in Utah, U. health officials said on Twitter.
U. health care assistant Diana Navarrete, environmental services worker Maria Cuevas, emergency medicine Dr. Stephen Hartsell, and respiratory therapist Brad Thompson were all vaccinated shortly after Mulder Tuesday morning.
"It's an overwhelming day today, lots of emotions," Mulder said during a Tuesday press conference following the vaccinations. "I'm excited for this next step we are taking in ending this painful pandemic."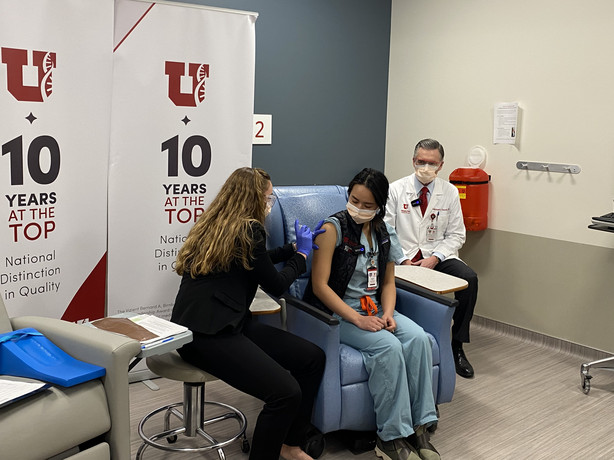 Intermountain LDS Hospital workers Monte Roberts, Amanda Vicchrilli, William Brunt and Sophie Woodbury received the vaccine shortly after 1 p.m. Tuesday.
Roberts, who was visibly emotional after being the first Intermountain worker to be vaccinated, said it's been a taxing struggle to see patients affected by COVID-19. The disease affects everyone, young and old, and it doesn't go away, he said.
Roberts said he was thrilled to receive the vaccine not only to protect himself, but also to protect his patients, his family and his community.
"It's enormous because it provides light," he said during an Intermountain news conference shortly after he was vaccinated. "We can beat this. We're going to get through this together."
'Herculean effort' to start vaccinations
Front-line health care workers are the first in line to get the vaccine this month. Residents and staff at long-term care facilities, as well as teachers, will also be in the first wave of Utahns to be inoculated, health officials said. About 154,000 doses of the vaccine are expected to arrive in Utah this month.
U. health pharmacy senior director Kavish Choudhary described the "Herculean effort" Tuesday to get the vaccine ready to administer.
The vaccine arrived about 7 a.m. Tuesday in a surprisingly small crate, he said. The doses were transported to the U. hospital about an hour later and had to be kept in a freezer for about two more hours before they could be administered, he added.
"A bit of a whirlwind morning," Choudhary said.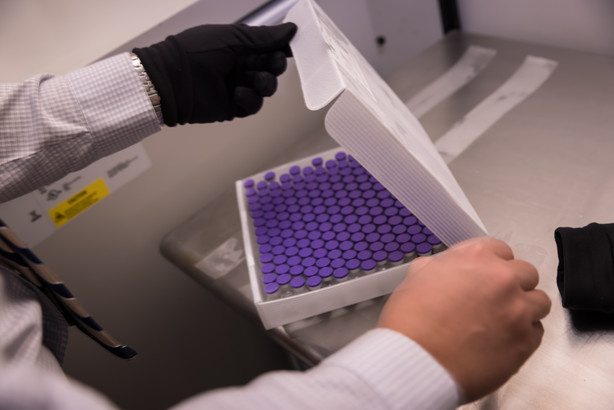 About 25-30 more U. health workers will be vaccinated Tuesday, according to Choudhary. Several hundred more workers will be vaccinated Wednesday.
On Thursday and Friday, the U. will expand to open up a larger vaccination clinic for workers, Choudhary added. Those clinics will have 15 people administering the vaccine, and they will be able to vaccinate one worker every 10-15 minutes, he said.
Pharmacy staffers are still getting used to the COVID-19 vaccine vials, which are different from what they're used to, so the vaccine rollout will be more gradual, Choudhary said.
At Intermountain, 50 LDS Hospital workers were set to receive doses Tuesday, said Intermountain Healthcare medical director of infection prevention for employee health Dr. Kristin Dascomb. Intermountain Medical Center in Murray and Intermountain's Utah Valley Hospital also will be receiving doses of the vaccine soon, she said.
"We're grateful to share this hope with our caregivers," Dascomb said.
The University of Utah Hospital, LDS Hospital, Intermountain Medical Center in Murray, Utah Valley Hospital and Dixie Regional Medical Center in St. George are the five Utah hospitals that have ultra-cold storage facilities needed to house the COVID-19 vaccine, so those five facilities are getting doses of the vaccine first.
Other Intermountain facilities, such as Alta View Hospital in Sandy, McKay-Dee Hospital in Ogden, and Logan Regional Hospital will be receiving doses sometime down the line, Dascomb added.
Health care workers grateful for vaccine
Hartsell said the vaccine was "probably one of the best Christmas presents we've ever received."
"It's a historic day," he said.
Mulder said that while death has always been a part of working in an ICU, there is something different about COVID-19. It's painful to watch patients suffer for so long, she said.
"That weight feels heavier and heavier over time," Mulder said. But being able to get the vaccine gave her a feeling of hope, she added.
"It's really encouraging, and it really does feel like a weight lifted off," Mulder said. "It's so special to be a part of."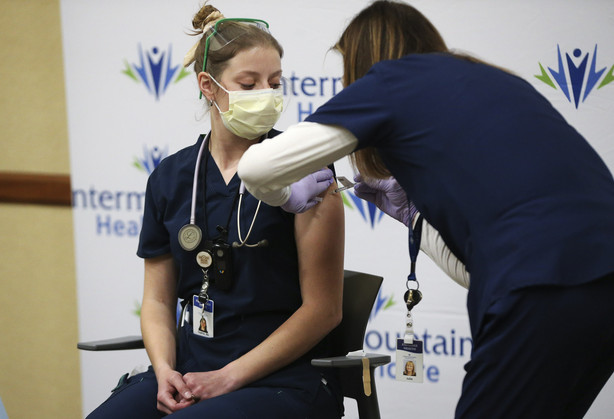 Read More:'It provides light': First Utah health care workers receive COVID-19 vaccine